Booth Design for Start-Up
_
Client:
inCitu
_
Role:
Lead Designer
_
Date & Timeline:
2023, 2 weeks
_
Skills:
Concept Development
Environmental Graphics
Experience Design

_
Tools:
Procreate
Illustrator


Booth design for start-up at
Smart Cities Connect Conference

Project overview

inCitu is a start-up that leverages AR technology to help users see the future of their cities through an app that shows 3d models of proposed and permitted building sites. inCitu hired me to create a booth design that would bring their product to life at the Smart Cities Connect conference and expo.
Booth goals

1. For visitors to understand what the inCitu product can do
2. For visitors to get first-hand experience using the app
3. For city's decision makers to get excited about how they can use inCitu's product
Visual direction

1. Colorful and fun design
2. Includes construction site and urban aesthetics
3. Engaging experience design for visitors
Concept development


After our first meeting, where I learned about the goals of the booth, I created two concept directions.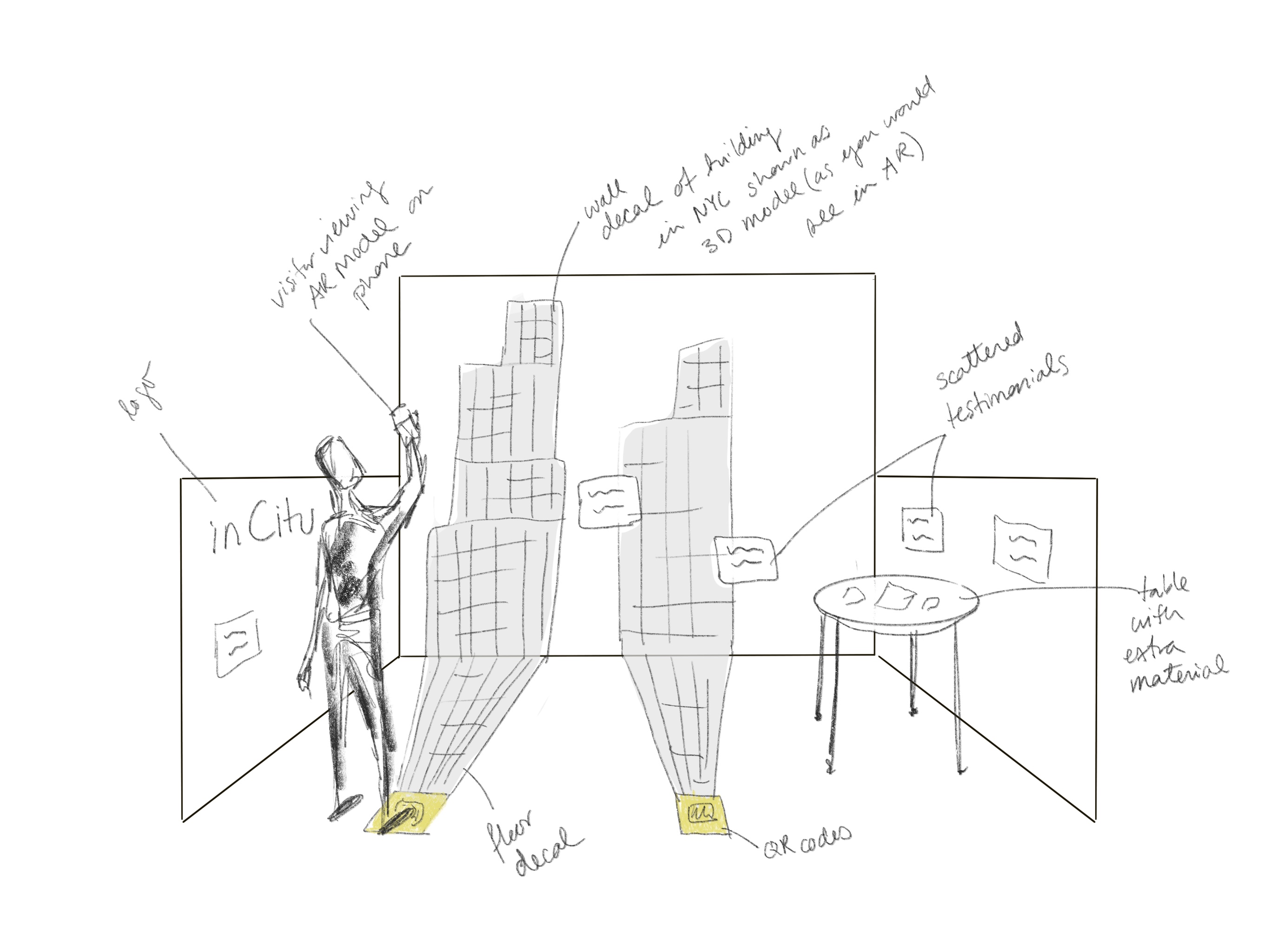 Option 1 includes floor decals with QR codes that lead users to the app. The QR code decal grows into a city skyline. The background of the booth includes company logo and testimonials.



Option 2 includes floor and wall decals with QR codes on top of a map of New York City which highlights projects that the inCitu app covers. The background of the booth includes company logo and testimonials.
Visitor journey


I created a visitor journey to explain the ideal experience visitors would have in the booth.




Design iteration


The team decided to move forward with concept 2. I updated the sketch to include a visual reference to New York City construction sites, and as we learned more about material restrains, I continued to develop the concept and proposed printing materials.



Color scheme

Final design and scale model


Once we landed on our finished concept sketch I designed the graphics in Illustrator and created a scale model so that the graphics could be views in-context with the rest of the space and at scale.